" High Strung Bluegrass "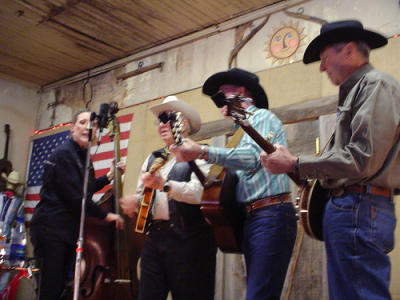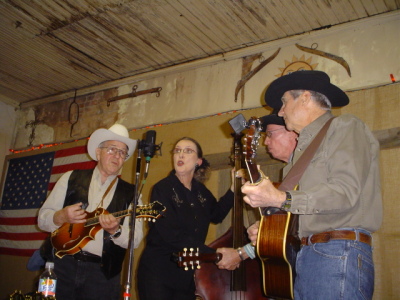 The HIGH STRUNG BLUEGRASS band consists of Pat Conrad, Hugh Jones, Bo Creighton and Jack Marshall.

Pat Conrad plays the bass, sings lead and harmony and is employed by the Paris Independent School District as secretary to the principal at Paris High School.

Hugh Jones plays banjo and guitar, sings some lead and is a tree farmer, after leaving the agricultural chemicals business.

Bo Creighton plays the guitar, sings lead and harmony. He is a farmer/rancher raising championship paint horses and Angus cattle. He has played country music since a child. He attended his first bluegrass festival seven years ago and became immediately hooked.

Jack Marshall plays the mandolin and lives in Denison, Texas. He sings lead and harmony and has played bluegrass mandolin for many years. He is ready to go anytime and just about anywhere.

HIGH STRUNG has been playing as a group for five years and make Our home in and around the Paris, Texas, area. Music takes Us to Oklahoma, Arkansas, Louisiana and Texas, playing festivals and other bluegrass shows. We have pure love and admiration of the strong traditions on which the music was founded.

We ask you to feel the way the music is played when We give it to you straight from Our heart to yours. You'll find nothing mass-produced or taste tested, just the unvarnished natural authenticity that is genuine, down to earth and speaks the plain truth.
"Texas Acoustic Music Society, LLC "
Pat Conrad 903 782-8717 ~ Hugh Jones 903 739-2000 ~ Whiz & Bo Creighton 903 785-3958
Homepage ~ About Us ~ Photos ~ Schedule ~ CD's
View Our Guestbook
Sign Our Guestbook
Bluegrass Music, " It's a feeling not a color."